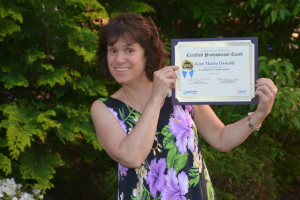 In Jean's own words: In May of 2015 I became a Certified Professional Life Coach (CPC) through Leadership that Works, an International Coaching Federation (ICF) program. My Coaching business is called "Your Inner Wisdom" because I firmly believe that any client who comes to me has all the wisdom s/he needs inside. A coach is someone who helps you uncover that wisdom when you can't get to it and supports the changes you want for your life. Until my Coaching website is complete you can learn about my practice here. You can also follow me on
Facebook
.
What is coaching?
You might be aware that more and more lay people seek out coaching because of the many benefits that come from hiring a coach. The coaching relationship is a powerful, ongoing one that helps you focus your visions and goals until you realize them fully. With a Professional Coach you will get the tools and support you need to remove obstacles and facilitate change.
What are some reasons people hire a coach?
To make your present job more fulfilling
To plan your life based on what matters most to you
To create more balance in your life
To focus your energy to finish or plan a project
To increase your effectiveness as an executive, manager or sales person
To work with your team to increase productivity and effectiveness
To make your life more fulfilling
How is coaching done?

Typically, individual coaching is done by telephone, for three to four 30 – 45 minute sessions each month. We can also use Skype or if you're local to Rochester, NY you can come to my office. To create profound changes in your life, I ask for a three month commitment.
Is coaching therapy?

No, coaching is not therapy. You will find that coaching focuses on strategic planning and personal growth and does not attempt to heal emotional trauma. Coaches regularly refer clients to other professionals for issues that are better suited to a therapeutic relationship.
What is a typical session like?


The hallmark of coaching is self-responsibility. The client sets the agenda for the call and the coach follows that agenda. You can expect powerful and clarifying questions, focused and fine-tuned planning tools, and accountability. As your coach, I'll have high expectations of you and support you thoroughly.
What does it cost to hire a coach?


Currently my fee for coaching is $300 a month for three 50-minute coaching sessions. Checks are accepted before the 10th of each month and if it's easier for you, you can pay by Visa or MasterCard.
Your coaching fee is an investment that pays big dividends. If you're like most people, money is available for the things you really want or need. Are you cautious about spending money and concerned about making intelligent choices? Here are three things you can do to maximize your investment:
Hire the right coach. Find the coach whose specialties best match your needs.
During your first coaching session, set a 90-day goal that's worth accomplishing. Make sure the goal is something that's worth the coaching fee, something you'd be happy to pay for.
Make the most of your coaching time. Tell your coach what results you want and your coach helps you make it happen.
How do I get started?

It's easy. Email me to arrange a sample coaching session, and we'll talk about whether coaching is right for you. If the chemistry is right, and you decide you want to move on to the next step, we'll get out our calendars and schedule your discovery session. A couple of days later, you'll receive your "Welcome to Coaching" package which includes some self-assessment and planning tools. And that's just the beginning!